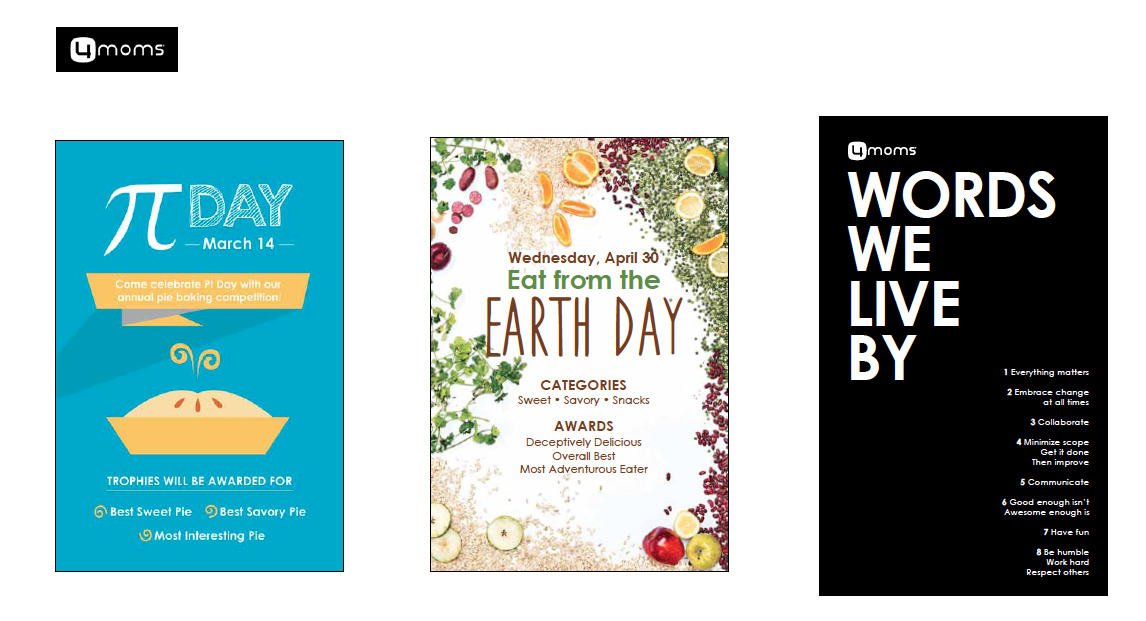 4moms yearbooks
This was a fun and unique opportunity to create a culture book for 4moms. The first edition came out in 2013. It quickly became a 200+ page book in 2014 and 2015. This was one of the main reasons I was hired at 4moms. My roll eventually moved towards the marketing side of the business, but this was a big part of what I did there. I set this up as a template so it could easily be updated. I held many meetings with a committee of people who would gather photos and chime in on what needed to be included in the book. We had many reviews before this went to print. I met with the printer and learned a lot about binding and printed a book opposed to smaller print jobs.
4moms Focal Flat in target
For this project, I designed the graphics and worked with a team to pick out the materials of the display including the flooring and table structure. This focal flat design is now installed in over 800 Target stores.
Target Focal Flat in store photo
You can find this in most Target stores you visit.
Blacksmith Applications Landing Page
This is an editable landing page designed for Blacksmith Applications. I used Adobe XD to lay this out. I designed 3 options, and this is the design they chose. I worked closely with a programmer to make this Landing Page editable in a marketing automation software called Act-On. To the right you will see the mobile layout.
Blacksmith Applications Magazine Subscription Landing page
Blacksmith Applications offers a print magazine called Smoke Jumpers. They were in need of a landing page with a form where visitors can sign up to receive the magazine subscription. I used Adobe XD to lay these out. I worked with a programmer who coded this in Act-On, a marketing automation site.
Blacksmith Applications email and newsletter
To the left you will see an editable email template and to the right you will see an editable newsletter template for Blacksmith Applications. For this project, I wanted the designs to look custom, while maintaining a clean design that is easy to read on your mobile device. A lot of their customers use Outlook to open their emails, so we had to keep in mind that the images might not even load. I worked with a programmer who coded these in Act-On, a marketing automation site.
4moms product catalog
This is a preview of the 4moms International Product Catalog. This is a 16 page catalog. I worked on this from start to finish. In this piece I introduced a new way to point out the product features. I worked with local printers to make sure the quality was what we were looking for.
PPG Paints Consumer book
This is a coffee table book for PPG Paints. This was the first piece of it's kind for PPG Architectural Coatings. This was targeting high end painting projects and was meant to be given to clients at in-home consultations. In this piece I was able to use different paper coatings and varnishes to really elevate the quality of the piece. I was at all the press checks and worked closely with the printers.
PPG Paints Consumer Book and Display
This is the inside of the PPG Pittsburgh Paints coffee table book. Also displayed here you see some in-store paint displays. I was given the dimensions of the panels in the display and designed all the graphics. This required store visits to and tests to make sure the design worked well in the store. It was a very interested study and we found that a lot of store owners would place the displays by the window and the sun would dull the ink on the display. We worked closely with printers to make sure that wouldn't happen.
Chatham University Landing Pages
This web layout was for the Pennsylvania Center for Women and Politics at Chatham University. I was asked to design 2 pages and also a mobile layout. I laid these out in Adobe XD and handed them over to the developer at Chatham. The university has their own photography, so the main image is a placeholder (hence the shutterstock watermark). They were looking for a simple and clean layout since this part of the website had not been updated in a while.
Chatham University- Concept Illustrations
These are concept illustrations and layouts for Chatham University. I was asked to give some of the programs a refreshed look that could eventually be carried across all programs. They were interested in illustrations as opposed to using stock photography. I used the Doctorate of Occupational Therapy program and the Master of Science in Biology program to start with. I did a lot of research about how to best represent programs that were so different. After drawing out a mind map of possible directions, I landed on using "tools" of each program to represent them. I then decided using grey tones would work nicely across the board so we wouldn't be introducing new colors to the brand. This was a great project to think big picture instead of just the project at hand.
Chatham University- Concept Illustrations
Concept Illustrations and layout for Chatham University.
AIRTIMESHARING WEB DESIGN
Airtimesharing is a calling service provider for international calling. I was asked to provide a layout for the app section of the website. I worked with a developer who was off-shore and there was a lot of challenges due to language barriers. The programmer was self taught and was still learning a lot. The end product was not exactly what I intended, but given the circumstances we made worked together to get the site up and running.
Airtimesharing emails
This is just one example of many emails I have designed for airtimesharing. I would say this is the most popular form of communication the company has. They started by attaching a PDF to and email, and I was able to get them set up on Mail Chimp to improve that experience for customers. I design emails using templates on Mail Chimp or customize them to my design.
4moms high chair- POINT OF PURCHASE GRAPHICS
These graphics were made to be on the high chair as it sits on the shelf. The unique thing about this high chair is that the tray is magnetic. This is the first product in its category that had this feature. It was really important to communicate how it works in a really simple way, while introducing something completely new. I did a lot of testing for these graphics. I would design something and carry the high chair around the office and ask someone to read the signage and try to take the tray off. I learned that I had to use images and arrows instead of just words. It was a great exercise in the user experience side of design.
4mom high chair Point of purchase graphics close-up
Some of the launch materials for the high chair include: Banner, in-line point of purchase, tray liner, launch postcard, easy scan cards and a "try me" hang tag.
4moms on-product Point of Purchase
4moms sells 3 different infant seats. They are sometimes displayed next to each other and sometimes apart from each other. The goal of this was to make the hanging signage look consistent across all 3 seats. I worked with existing icons and also had to create new ones. I worked with the printer to create launch packets for all the stores to update all signage. This included overseeing all the printing and also making instruction sheets showing them how to connect the graphics to the seats and where to place stickers.
4moms On-product Point of Purchase Close-up
buy buy baby product display
This is a 4moms modular retail display. I worked closely with industrial designers on this project. This was a custom piece so we started from scratch. We worked together to get the correct seat shape and the correct height of the car seat. The point of the display was to show that the car seat was self installing. There is nothing on the market like this. This display needed to show that you click in the straps and push and button and the seat would tension itself. It was all hands on deck to get this project completed. I learned a lot about how a display is put together and different types of finishes that are available. Since the display was also going to be used for another product all the pieces had to be modular. We used a magnet for the back graphic so it could easily be changed.
PPG - Olympic Paint, Lowe's
These are 6 foot and 8 foot banners made for the Lowe's National Sales Meeting graphics. This was a yearly branding meeting held in Arizona. This meeting resembled a big trade show. This is where new products would be announced and all the store managers would learn about the new products. This would be the first time the managers would be introduced to the Olympic One brand so they wanted these big banners made. I worked with a signage company to have these printed and shipped to the location. I was able to attend to event to make sure everything went as planned.
Counseling associates of Aiken
I created the logo and branding for this new practice. They were looking for something simple and welcoming. To the left you can see the front of their tri-fold brochure. I also designed their business cards, letterhead and website using squarespace.com. They wanted to be able to update the website themselves, so I just got them started with a simple site.
https://www.counselingassociatesofaiken.com/
The Landing logo
This is a logo for Impact Church. They purchased an ice skating rink that they turned into a community center. This is located near the airport, hence the name and nod to airplane wings. I worked with them to establish brand colors and also worked to pick the interior colors for the community center space. I also designed their road sign.
Buy Buy Baby "Shop in Shop"
This is a space inside Buy Buy Baby, which is owned by Bed Bath and Beyond. I was able to assist in setting up a system where the stores could easily order banners to customize this space for each location.
Babies R Us Product Feature Space Render
Sometimes Babies R Us would have extra space in the store and in this case they asked 4moms to design a feature space. This was a render I created for that space.
4moms best baby registry giveaway email
This is a simple email design I created for 4moms. They were partnering with Best Baby for a giveaway.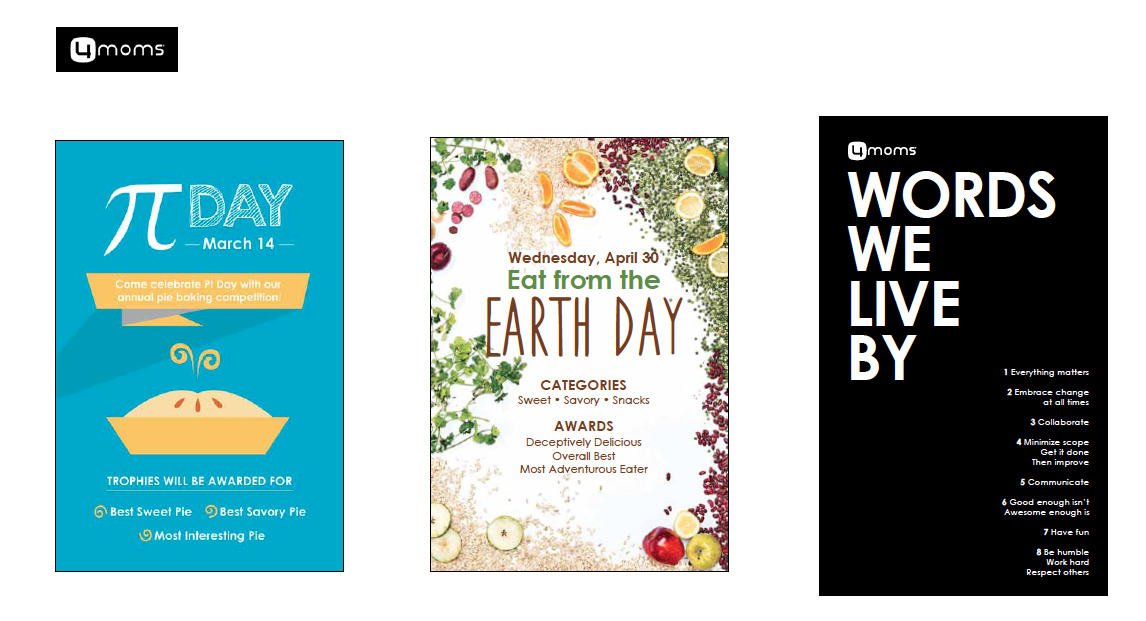 4moms Internal posters
4moms had a lot of internal events going on. They also owned a large format printer and photography studio. So part of my job was to make posters to get people excited about events. I created the illustrations in the pie day poster and took the photo of the produce in the Earth Day poster using our photography studio. The Words We Live By graphic was a very important project, because it would be hung in also every conference room and common area in the building.
Little Star Luxury, China Store Displays
I worked closely with Industrial Designers on this project. Together we designed several displays where the 4moms products could be displayed in-store. We then created a detailed tech packet for each display so the stores could easily have access to all the information they need to build the displays.
Little Star Luxury, China Display Tech Pack
This is the detailed tech pack for the China Store Displays.
PPG Voice of Color postcards
PPG would have color events inviting people to come talk about color in their homes. These were postcard invitations to those events.
PPG Paint and Maintenance Binder
This project had many pieces. This binder was designed to keep Commercial Painters organized and informed about their facilities. This was a brand new tool and became very popular in the PPG Commercial Segment. The pieces included the binder, sell sheets, brochures, a folder and training materials. Facility managers would typically have things all over the place, so it was a great tool that our managers could use to sell our products while helping them stay organized and have everything in one place.
PPG Paint and Maintenance Print Pieces continued
Land and Sea Catalog
This is a Land and Sea Catalog. Land and Sea sends out a catalog twice a year offering a variety of seafood and meats. I work with another designer on this project, and together we create the ads that can range from full page, half page or a quarter page. Obove you will find the cover of the 2017 Spring Catalog and a few pages I designed.
4moms CES Display
This was a 4moms carseat installation display at CES, one of the biggest consumer technology conferences in the world. This was displayed right beside the Delphi booth. This was used to show people the world's first self-installing car seat. This was a big collaboration between the Industrial and Graphic Designers. My part in this was helping to pick the shape of the displays, location of the branding, and colors of materials.
PPG Design Space - Market Square
This was a space located in Market Square in downtown Pittsburgh. Anyone could come in and pick out paint color and meet with interior designers to pick paint colors for their homes. I designed all the window and hanging graphics.
PPG Design Space - Market Square
Window and hanging graphic close-up.
4moms Training Guide booklet
This was a tool that was used by the sales team at 4moms. They would bring this to stores when they trained the store associates. I collaborated with the Sales team to pinpoint what we need to have in this book. We worked together to create a simple yet informative training tool. We were able to streamline the information and leave it behind with the store associates. I designed this from start to finish while working closely with the sales team.
4moms Training Materials
Here you see some more sales tools. On the top you see some spec sheets that outlined more detail about each product. On the bottom you see 2 spreads from the 4moms product catalog that was handed out at trade shows.
4moms breeze playard Point of Purchase
This is the point of purchase graphic hanging on the 4moms playard in-store. We went to the stores to test design in-aisle, to make sure it communicated everything we needed it to. The unique thing about this playard was that it was so easy to open compared to other playards. There was no way for customers to test this out in the store, so we needed to show that through the graphic. All photography was done in-house by the photographer at 4moms. We also had to test out ways to attach this to the product. We ended up using a zip tie that was very small. We also had to work with an installment company to go into all the stores and attach it to all the products correctly.
4moms trade show 6' pull banners
These were simple pull banners made for trade shows. I was responsible for designing and ordering banners.
4moms internal graphics
These are some fun internal graphics I did for 4moms. To the left there is an email invitation for the annual 4moms party. You will also see t-shirts for the events and logos for other special events 4moms was a part of. I worked with the screen printing companies to order the shirts and make sure artwork was correct.